Dental implants are durable and if properly treated it may even last for many years. Success  rate of dental implants will likely depend upon the capacity of your dentist too. Such implant is placed on the jaw and holds a different tooth or bridge in place without the need for the nearby teeth for support for the new one. We must bear in mind and also be safe having one of these types of implants since there are many dentists are performing this treatment but the procedure isn't good.
A cosmetic dentist who has competed in implant surgery must first gaze level of bone before this treatment. Adequate height and width in the bone need to be providing implant once placed. A dental implant procedure enables another of your tooth having one artificially made titanium screw-formed tooth. The screw has been produced with careful and thorough process using sophisticated technology tools.


There two primary types of low cost dental implants commonly used by doctors:
Subperiosteal Implants are positioned at the top right from the jaw instead of inside the bone, while using metal posts to help keep the artificial tooth in place. These can be beneficial to individuals who've shorter bones in the jaw. Another one is Endosteal implants. These are the most generally used implants and place into the jawbone. They secure the newest tooth in place and they are more generally comfortable with people who have bridges or detachable veneers. Well, the most common reason people get implants is always to keep veneers place. An implant can be a durable solution using this and several people who choose implants due to this significant improvement of their ability to chew and feel convenient overall.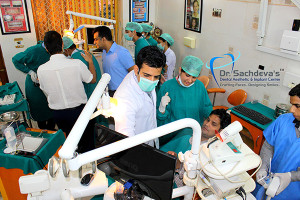 If you are searching for any reliable dental implant clinic, with good reputation and are extremely capable dentist that is able to perform such implants professionally you should check with Dr. Sachdeva's dental aesthetic & implant center. It is a place where you can get the best dental treatment in a moderate cost along with all the answers of your questions regarding such implant treatment.
In the end, I would say success rate of such implants will likely depend upon the capacity of your dentist and your awareness about the post dental implant factors.
If you would like to know more about dental implants and how they might fit into your particular situation, give Dr. Sachdeva's Dental Aesthetic & Implant Centre a call. We can be reached at +919818894041, Clinic: 011-42464041, +918527017175 and our office is located at I – 101, Ashok Vihar, New Delhi -110052
We look forward to helping you upgrade your smile and your quality of life!
Dr. Rajat Sachdeva
Dr. Sachdeva's Dental Aesthetic & Implant Centre
I – 101, Ashok Vihar,
New Delhi -110052
Mobile: +919818894041
Clinic: 011-42464041, +918527017175
http://www.sachdevadentalcare.com/