We at DR. SACHDEVA DENTAL CLINIC AND IMPLANT CENTER practice the disinfection and sterilization procedures essential for the infection control and prevention. Our center follows sterilization monitoring procedures recommended by American Dental Association (ADA).
Our AIM is to spread awareness about the importance of sterilization of equipments and about the advanced techniques we use to give a clean and germ free environment for our patients.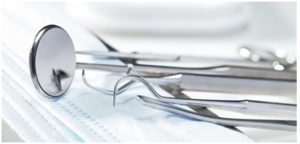 WHAT IS STERILIZATION?
Sterilization means any process that effectively kills or eliminates transmissible pathogenic agents (such as fungi, bacteria, viruses, spore forms, etc.) from a surface of equipment/instruments.
HOW IT'S DONE? AN OVERVIEW
We clean all the instruments thoroughly with hot water and then with spirit, kept wrapped in autoclave. Then instruments are kept in an ultrasonic cleaner to remove blood & fluid stains from inaccessible grooves.
All the cleaned equipment is sealed in a pouch.  Each pouch contains set of instruments required for single patient.
After Autoclave cycle, sealed pouches are kept in a UV chamber till they are taken out for use.  Ultraviolet rays in the chamber ensure that instruments remain in sterile condition when they are taken out for use on you.
WHAT SYSTEMS DO WE HAVE?
1.     SK 07 – AUTOCLAVE
TheSK07 is the latest generation produced with SMT technology. This technology allows minimizing energy and watering consumption and requires very little maintenance.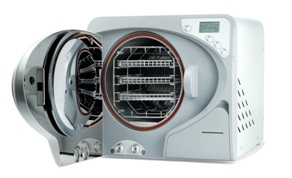 Integrated safety system to monitor every phase of the sterilization cycle and to inform the user about any possible failure.
BIOSONIC UC125H
The new BioSonic Ultrasonic Cleaning Unit 125 is an advanced technology for the cleaning of equipments in an efficient way.
The cleaning unit is equipped with a solution tracking function to monitor the changing of cleaning solution when it's completely exhausted.
There is an additional feature of degassing of the solution, i.e. air entrapments which hinder the cleaning process, will disappear.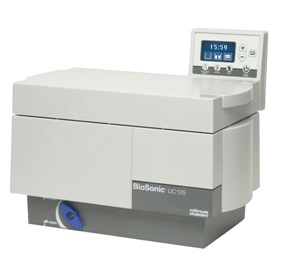 This technology provides the flexibility to efficiently clean and disinfect instruments, prostheses, and other items throughout the dental practice without compromising on OUR hygiene standard.
1.     AUTOCLAVE STERILIZATION POUCH BAGS
These pouch bags are applicable to every medical instrument such as surgical scissors, tweezers and disposable sterilized packaging of medical catheters, syringes, sterile dressing etc.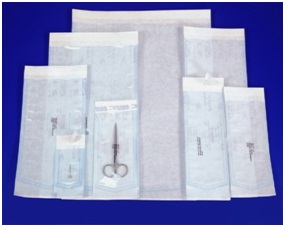 Instruments are packed and sealed air tight in the sterilization packages after the cleaning and autoclaving process is complete and stored in UV chamber till the next use.