Understanding Nursing Bottle Tooth Decay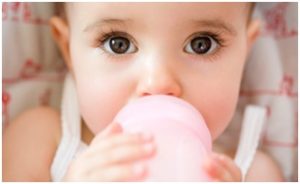 Your baby teeth are important, but are also vulnerable to decay, so special care in their oral hygiene maintenance is must. Dentists recommend that parents should start brushing their baby's teeth as soon as the first teeth erupt in their oral cavity.
Causes of Nursing Bottle Tooth Decay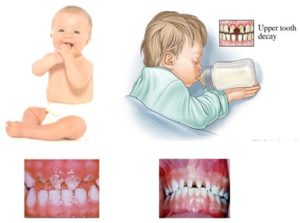 Nursing bottle tooth decay often affects upper front teeth, but other teeth may also be affected.
There are many factors which lead to tooth decay. One of the most common causes is prolonged exposure to sugar containing drinks. For our convenience, we often put our baby to bed with milk bottle or pacifiers especially at night, bacteria in the mouth thrive on this sugar & produce acids which eventually results in teeth decay.
Prevention of Nursing Bottle Tooth Decay–
Baby teeth are very important for your baby to fulfill the form & function of teeth like smiling, chewing, & speaking also they are the placeholders for their permanent teeth. So it's very important to implement good oral hygiene to prevent decay & lead a normal healthy life.
Parents must take care of their infants when it comes to bottle feeding & nutrition. Bottle & breast feeding must be refraining while the kid is in bed. Nocturnal bottle & breast feeding increases the likelihood of developing caries. However, parents must be certain that their infant finishes bottle feeding before going to bed.
After each feeding, parents must clean baby's gums with a clean gauze pad.
In order to maintain proper oral hygiene, parents should begin brushing their child's teeth, without toothpaste, as soon as the first tooth erupts in their oral cavity. Even if parents use toothpaste, use a fluoride-free one.
When all the deciduous/ baby teeth have come in, do not forget to floss them.
Parents must make sure that their child is getting enough fluoride, in order to prevent dental caries. In order to confirm whether you need a supplement, you can visit your dentist.
Schedule regular dental visits for interception & prevention of decay.
Proper preventive practices & heed towards infants & children can affix a halt to teeth decay.    
Written By Dr.Rajat Sachdeva