With the increasing acceptance of dental implants as a viable tooth replacement therapy, complications & failure rates have also increased proportionately.
A range of possible post-operative complications & their prevention are described below:
Infection: Implants are made of titanium, which is strong & biocompatible, which means that is not rejected by the body. So the chances of developing post-operative infection are extremely rare. At times when dentist do not follow effective & strict protocol of sterilization, patient might be vulnerable to post operative infection.
Post-operative infection causes pain & discomfort to the patient, reason being- bacterial contamination of implant or surgical site during the procedure.
If the infection is limited to the soft tissue, a small gum boil will be noticed over the implant site. It can be punctured using a sharp probe & irrigated with chlorhexidine solution or citric acid. It heals & the pain subsides within 24hrs.                                                                                        In case of continuous pus discharge & severe pain which is not relieved by analgesics, this depicts that the infection has reached to the bone-implant body interface.
Prevention: one should follow strict protocol of sterilization in the operatory in order to avoid any bacterial contamination. Also, in such cases, the implant should be removed immediately & prescribe good antibiotic like tab Augmentin 1000mg twice a day for 5-7 days. A new implant can be inserted when the site gets healed in 6 weeks.
Post-operative Edema: Post-operative edema develops in cases of traumatic implant placement. High speed drilling & no constant stream of chilled saline causes bone to overheat & this leads to accumulation of fluids in tissue spaces i.e. edema.
Prevention: Unnecessary trauma to the bone must be avoided during osteotomy preparation. Drilling speed must be set according to the density of bone along with a pumping motion of the drill should be employed during drilling to allow the saline to cool down the bone. This prevents overheating & necrosis of the bone.
Patient must be advised to apply an ice pack over the facial   skin of the surgical site intermittently for 45 min to cool down the bone in order to suppress heat generation & inflammatory oedema.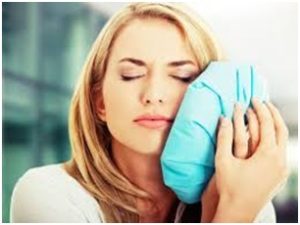 Pressure necrosis: results in cases where implant has been inserted & screwed at a very high torque, it may lead to pressure necrosis of the surrounding bone & the patient will complain of continuous pain not relieved by analgesics, for weeks after the surgery.
Prevention: Drilling at higher speed with maximum amount of chilled saline irrigation flow to cool down the bone. Use of final drill with the diameter only 0.2mm less than the implant diameter along with the use of bone tap to prepare threads in the bone to accommodate implant threads. Following these instructions help in reduction of post-operative pressure necrosis.
Suture line opening: leads to exposure of implant threads in the oral environment & may cause the collection of plaque over the exposed rough surface of the implant, which may further cause peri-implantitis & loss of hard & soft tissue around the implant.
Causes of implant thread exposure–
Suture line opening & loss of graft in cases where simultaneous bone grafting has been performed with implant placement also leads to implant exposure.
More superficial implant placement.
Thin mobile soft tissue recedes with muscle pull.
        Management:
Tension free sutures should be used to avoid the suture line opening because of the tension in the flap.
The open suture line should not be re-sutured but the patient should be instructed to keep it clean, as it heals by secondary intention in 2-3 weeks.
If soft tissue healing has not covered the exposed threads, either cover the threads using soft tissue grafting with or without simultaneous bone grafting, or adequate grinding & polishing should be done to make the surface smooth & prevent accumulation of plaque.
Bone resorption: one of the most common complication in dental implantology. When occlusal forces are not distributed equally i.e. is off-axis to the implant prosthesis leads to resorption. Also, when implant with a wider platform is placed into the narrow crestal bone causes crestal bone resorption.
Prevention: Implant must be placed along the axis of the future prosthesis. For large mesio-distal diameter two implants should be placed with narrow occlusal table of prosthesis. Along with the maintenance of oral hygiene, soft tissue grafting for compromised soft tissue around the implant must be addressed.
Peri-implantitis: is an inflammatory reaction with the loss of supporting bone in the tissues surrounding a functioning implant. Peri-implantitis is characterized by bleeding/suppuration on probing, together with loss of supporting bone.
The peri-implantitis lesion exhibits histopathological features that similar, but not identical, to those in periodontitis. Similar to periodontitis, the treatment of peri-implantitis must be based on infection control. Under these conditions, progression of the disease may be arrested & subsequent, lost peri-implant tissues may be generated by bone augmentation & soft tissue grafting procedures.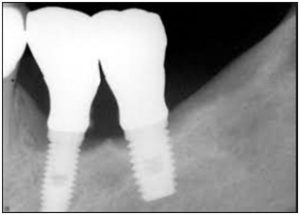 With this increasing trend of replacing the lost tooth with an implant, at Dr. Sachdeva's Dental Institute, we incorporate several associated procedures like bone augmentation to provide this therapy to the maximum number of patients. We follow strict protocol for sterilization & restore implants to minimize postoperative or post loading complications.