Dental implants are designed to be a permanent replacement for a missing tooth or teeth and are also growing to be popular alternative to removable dentures or fixed bridges.
Still some patients do experience some complications. The following are a few of the possible causes and reasons behind dental implant failure:
Success Rates
The majority of the problems that occur after the implant placement are generally minor and easily resolved. If something goes wrong, consult your dentist or surgeon.
Osseo-Integration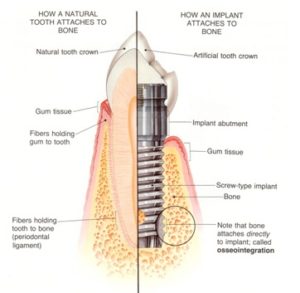 Osseo-integration is the formation of functional and structural bond between bone and an artificial implant. This process takes place over several months after the implant is placed in the bone.
The failure of the jawbone to fuse together properly with the implant is considered to be a failed osseo-integration. An implant is failed if it is mobile, falls out of bone or shows signs of bone loss of more than 1 mm even after the first year.
For patients who don't have adequate bone height, width or length, procedures such as a sinus lift or bone graft can help in increasing space and bone mass loss.
Peri-Implantitis (Infection)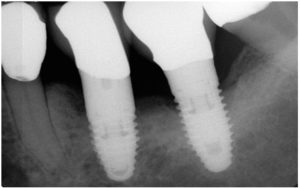 Peri-implantitis, or infection, is a condition that involves inflammation of the gum and/or bone around the implant. A form of periodontal disease, peri-implantitis can cause bone loss and implant failure.
Nerve & Tissue Damage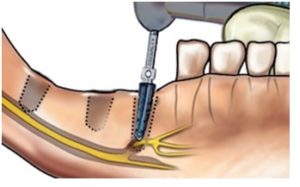 When an implant is placed too close to a nerve, patients may experience chronic pain, tingling or numbness in their cheek, gums, tongue, lips or chin.
Some bleeding and pain is to be considered normal for a couple days after the surgery, but if the pain is extreme, the bleeding excessive or they it last longer than a few days, one should contact their dentist as soon as possible
Overloading
Immediate loading is a all-in-one stage treatment method where the crown and abutment are placed on the dental implant right after the implant placement.
The normal process consists of a two stages and provides time for the implant to integrate with the bone before adding the external components.
Overloading refer to failures caused by excessive pressure or forces placed on the protruding abutment and/or crown. These forces easily disrupt the osseo-integration process.
Sinus Problems
An oral surgeon may perform a sinus augmentation procedure, to develop a strong bone foundation. The goal is to create more bone in that area in order to support a dental implant.
Sometimes if the implant protrudes into the sinus cavity, that area can become infected and/or inflamed. Patients should always inform their oral surgeon about sinus related issues prior to the implant procedure.
Other Risks & Causes Of Failure
The following are other risks and causes are:
Foreign body rejection–it is possible that a patient's body will reject the dental implant.
Failure of the implant itself–An implant can crack or fracture if it is subjected to excessive external force impact like a blow to the face or excessive pressure over a period of time like grinding teeth or an unbalanced crown.
Allergic reaction–While it is quite rare, some patients can have an allergic or inflammatory reaction to titanium.
Contraindications
Bruxism (tooth grinding or clenching)
Failure to locate a primary nerve in the lower jaw
Uncontrolled Type II diabetes
Insufficient bone height, width or length
Oral or intravenous bisphosphonates
Smoking